Movies and television shows gave us all the wrong impressions about farmers and their lives. Films make it look like farming is a profession filled with sunshine, cute domestic animals and hope. Of course, agriculture is beautiful and has so many advantages, but it is more than a career.
Farming is a lifestyle, and people who have decided to live it work up to 12 hours a day. In all conditions, these hard-working men and women have to stay outside and use their feet, going through cold, high temperatures, mud, and rain.
If you have experience in the field, you know that proper equipment can save a farmer plenty of sweat. Therefore, if you are a farmer or work in such harsh circumstances, you will need a solid pair of boots that can protect your feet and make you feel comfortable enough to wear them for more than 8 hours.
That's why footwear companies from all over the world have developed new designs for this kinds of boots and it can be pretty hard to choose one that meets all the requirements you have. Picking intelligently is essential because these boots will make the difference between chilling after work and treating wounds or infected bubbles.
Farmer Boots Buying Guide
In this article, we have decided to present the best farming boots right now, along with the most significant aspects to examine when buying a new pair.
Material
We can all agree that material plays the principal role in comfort, protection and durability. Your boots must act as a barrier between you and the dirt, cold and humidity.
Of course, our first pick for the material is leather. This material has always been a must for qualitative shoes because leather has unique properties other fabrics do not have. A leather boot will protect your feet from scratches, cuts and other possible damages without getting ruined in a couple of months.
Nowadays, footwear brands treat leather to be waterproof, but the material is protective enough against moisture anyway. While you might struggle a little the first time you wear the boots, leather soon becomes comfortable and follows your foot's shape.
Rubber is one of the most popular materials amongst farmers and ranchers due to its waterproof capacities. Usually, these workers need to spend long hours in unpleasant wet conditions and having a pair of shoes that keep you dry can be a true blessing. Hazards are, generally, not a problem either.
Hazard protection
Farmers are exposed to danger every day. They work with heavy vehicles and machines, with big animals and unreliable territory. Therefore, you should take a close look at the boots and make sure they are the best at protecting you from the potential accidents you might face.
Lining
In agriculture, the lining is more valuable than you think, as it has the power to transform your boots into the perfect footwear for the temperatures in which you are working. An insulating lining will help you cope with cold weather, while a breathable lining will improve air circulation in hot places. You can even choose an anti-microbial option to keep your feet away from bacteria and fungus.
Waterproofing
As a farmer, you probably consider mud your natural habitat. However, it is not a pleasant environment for working, and if you have the wrong shoes, you probably get home with pruney fingers every day. This problem can lead to serious medical concerns over the years and might affect your working capacity. Keep an eye on the material and label.
Comfort
Feeling good in your shoes is something necessary when you spend the whole day on your feet. It is not only a matter of being comfortable at the moment but a matter of health. Discomfort can easily change into pain if not addressed, and pain is the first sign that something is wrong.
Steel Caps and Puncture Plates
Working in such harsh conditions for your feet requires impeccable toe caps and puncture plates. Therefore, we recommend choosing a pair of boots with a steel toe cap incorporated to protect your feet from eventual hits. The same goes for puncture plates. They protect your sole from nails and sharp objects you may encounter.
Arch support
The best option in offering support to your feet, legs, and back is a contoured, thick midsole. Lack of support will lead to health issues such as back pain or even Plantar Fasciitis.
Slip Resistanance
One of the best things about a pair of farming boots is the slip-resistant sole. If the shoes you plan on choosing do not have it, then you might want to reconsider your decision.
Insoles
Insoles should keep your feet comfortable constantly. Most boots have removable insoles that you can clean or replace, but you can also go for separate insoles that meet your particular needs. Some of the best insoles are those made out of gel, padding, memory foam or EVA.
High Uppers
Boots with higher uppers offer the best protection against dirt, water and other unpleasant surprises. These kinds of uppers will also prevent injuries on your calf caused by sharp objects, thick bushes or even dangerous creatures such as a snake.
Solid construction
Nothing written above matters if you do not choose a pair of solidly constructed boots. The materials and features are only effective if they are well put together. To pick the best-constructed boots, you need to pay attention to how manufacturers attached the sole to the upper side. The most reliable is the welt construction.
Now that you know what to look after when buying a pair of farming boots, it is time to get on our list. We have carefully selected 15 pairs for hard-working ranchers.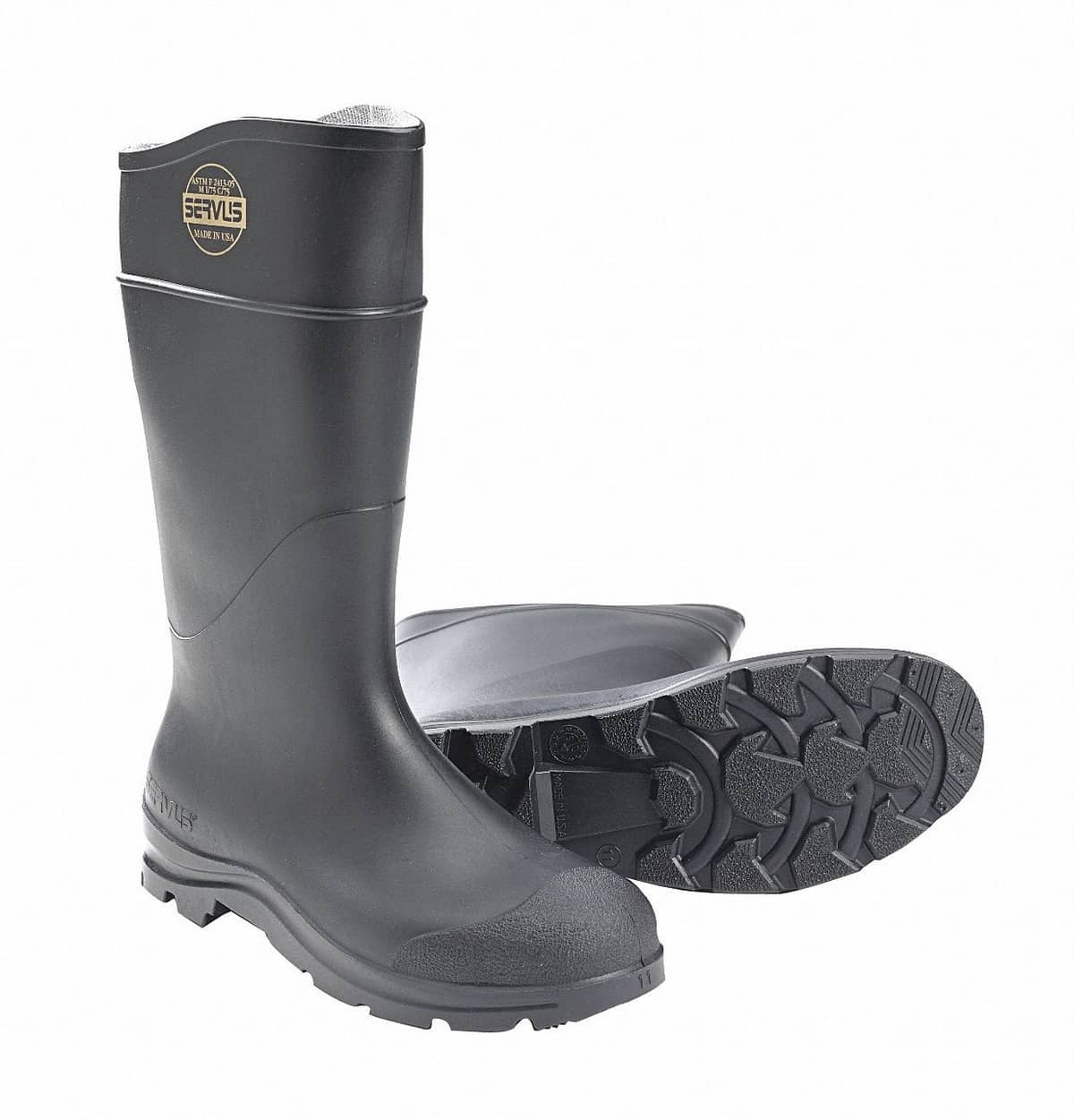 Servus created solid work boots by choosing the best materials and by assembling the shoes intelligently. Their footwear has high traction for rough and muddy terrain. Servus used PVC for the body, which makes the footwear a thousand times better. PVC is the ideal material, as it is smooth, repels dirt, chemicals and fertilizers, is polished and flexible. Not only these boots are durable, but they are also waterproof and slip-resistant.
The shoes are long and protect a big part of the leg. They also have a cupped heel designed to keep the feet in place and prevent them from slipping inside the shoe. However, the steel-toe can become uncomfortable after long hours of wearing the boots. In addition to that, it feels like the cushioning inside the boot does not offer enough protection and comfort.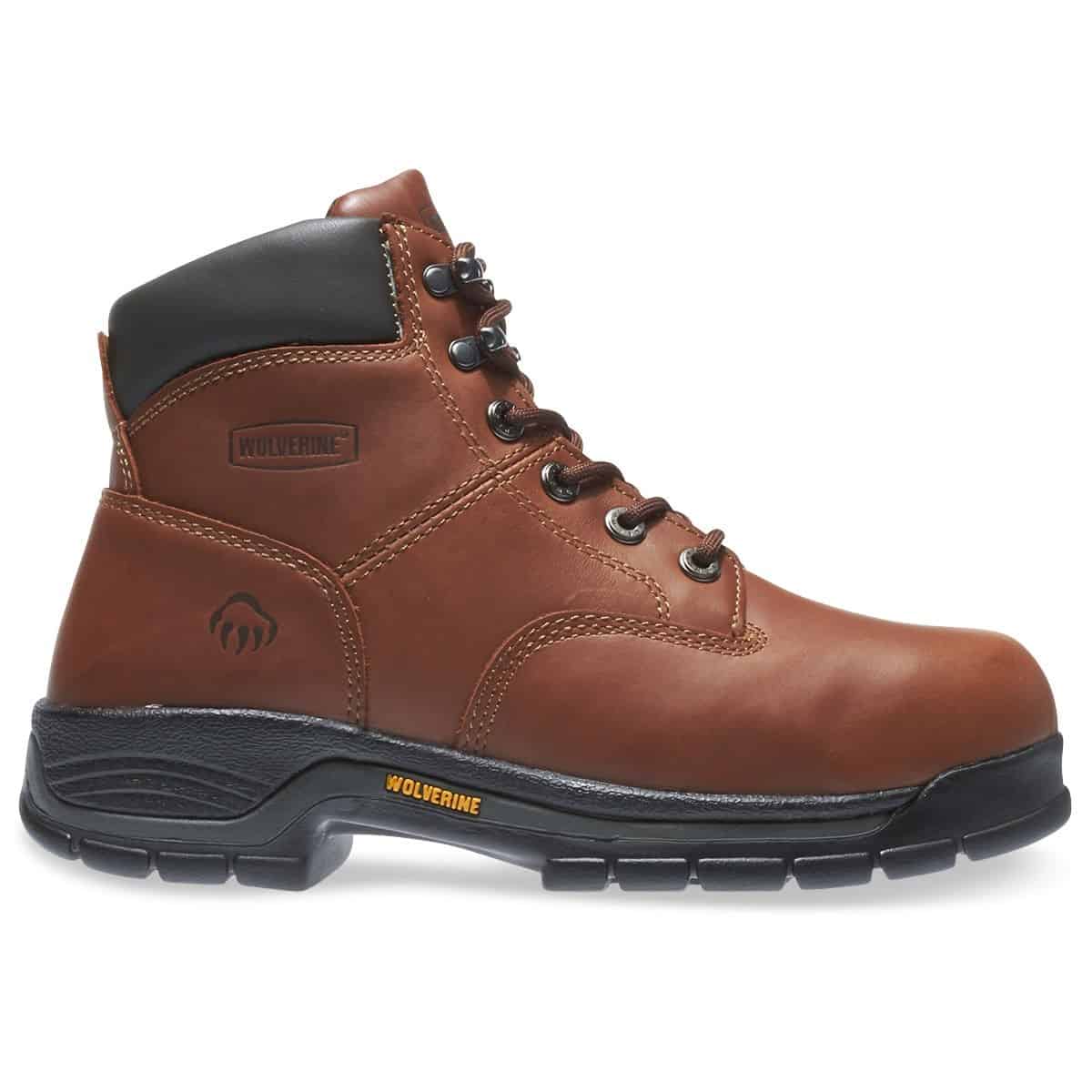 Wolverine is a renowned brand that does not fail to surprise us with qualitative shoes. Their boots are classy and sturdy at an affordable price, offering irreproachable protection against dirt, waste, chemicals and mud. We cannot think of something that could appear on the field and damage them irreparably.
The first thing you will notice about the Harrisons is the material- beautiful oiled leather. We have already mentioned the general advantages of leather, but this type of leather offers extra strength and has a smoother texture.
If you care about looks, then do not worry! These boots are some prettiest on the list, with a minimal and classy design that suits a casual outfit too. As for the sole, we must mention that it is made of high-quality rubber that will not let you slip. The shoes are assembled with the help of a cemented construction that offers extra durability.
The shoes are surprisingly light, and the insole is comfortable. Also, the insole is removable and can be washed and repaired.
However, there is an immense disadvantage to these boots. They are short, which lowers the protection considerably on the calves.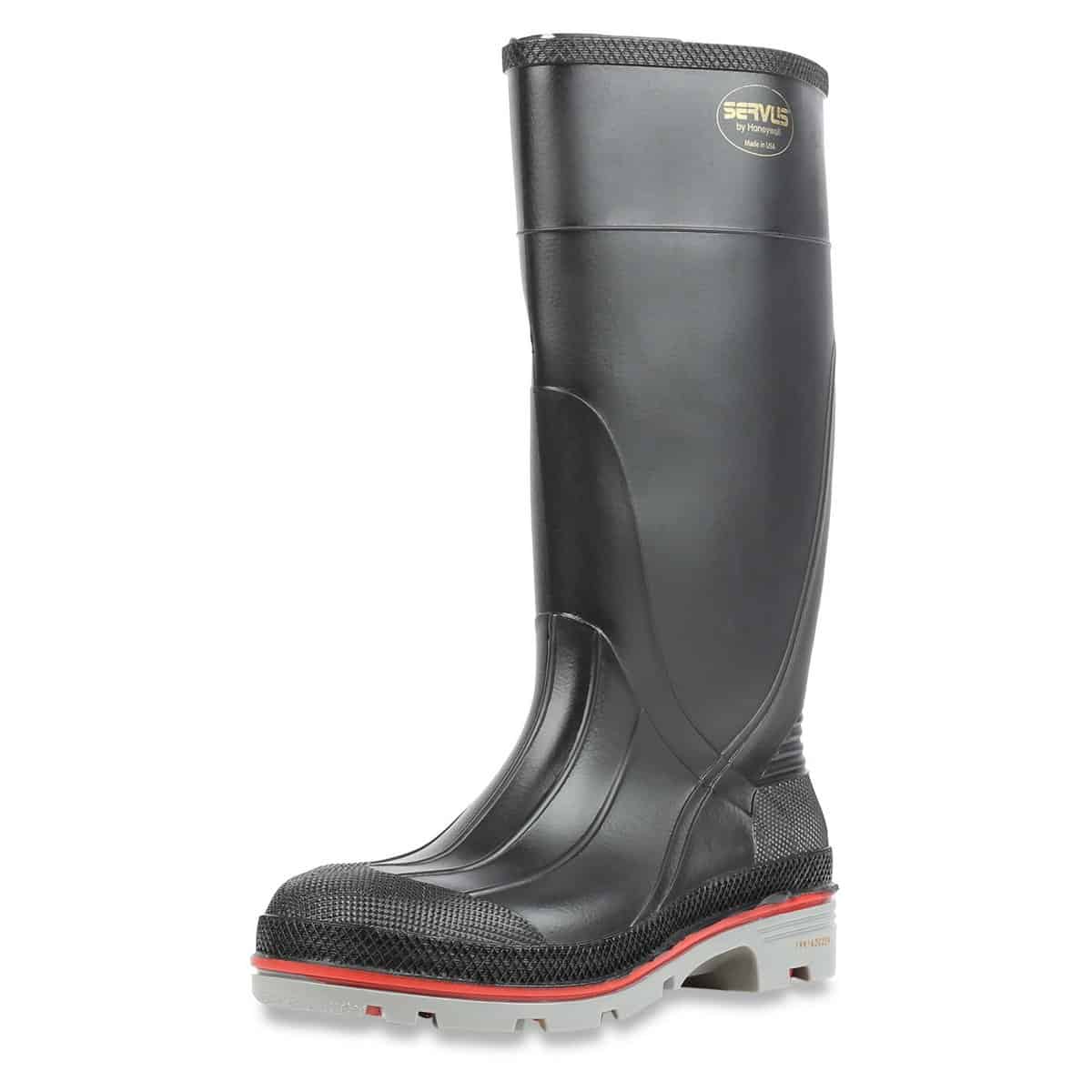 Servus appears once again on our list, this time with their 15″ PVC Polyblend Soft Toe Men's Work Boots, an improved and innovative design for farmers. Their principal advantage is durability, as they can last for years without breaking. Servus is a company that never fails the customers because they constantly bring new models with upgraded features but the same timeless design.
Reviews of this product say that these boots are the most competent work shoes on the market. The long boot will cover a considerable part of your leg, and the PVC upper is flexible enough for any movements. The outsole has deep grooves for holding the balance firm, and it is electrical hazard safe, conducting no current. The PVC is water-resistant and provides the most distinct protection against chemicals, acids, mud, fertilizers and animal waste.
Moreover, this miraculous material will keep the feet dry and comfortable in rainy or cold weather. In addition to these high-quality features, the boots have a contoured midsole and a lightweight insole that relieves pressure from heel and toe for a painless day at work. A steel shank is what will keep your feet away from weakness and instability. You would think that all these astonishing things about Servus boots come with an enormous price, but it is not the case. Servus makes affordable footwear to fit all budgets.
One thing we have noticed that did not quite impress us is the way the boot fits around the feet. The shoes are not as snugly as others, which can create problems in the first couple of weeks or even every time you wear them.
Muck Boot Company is a brand that respects farmers more than anything. They appreciate the hard work these people are doing daily to provide food for their homes and communities. Muckmaster undoubtedly understands the struggles of having a job in the agriculture world, and we have to thank them for doing that. The shoes they provide have the purpose of making farmers more comfortable while working, and until now, they never failed our high expectations.
Muck Boot Muckster Ll Mid-Height Women's Rubber Garden Boot is not an exception. Even though these boots are supposed to help you work in the garden, surrounded by mud and dirt, they are still elegant, and ladies love a pair of beautiful footwear. The height of these boots is perfect for gardening and also looks divine on female legs.
Plus, the shaft is foldable to the ankle, improving flexibility and air circulation. Moreover, the neoprene and breathable linings maintain the feet warm, dry and comfortable. The rubber outsole is self-cleaning, addressing a problem that gardeners and farmers have had for many years.
In addition to that, the outsole is high-traction and keeps you stable on wet surfaces. The upper is also made from rubber, which means it is waterproof, tough and durable. The inside of the boot is padded for extra support.
However, reviewers say that it was a considerable fuss to find the right size. Some people might give up if they cannot find the perfect fit immediately.
11. Muck Boot Men's Muckmaster XF Boots
We already talked about Muck Boot, and we will stumble across this brand a lot on the list. The company is one of the most experienced farmer boots creators, and the manufacturers know the perfect materials and features for work shoes.
Muck Boot Men's Muckmaster XF Boots is one of their best creations. This model is an upgraded version of some of their former boots. Unlike other boots Muckmaster has designed, these have a gusset construction, making them five times more accommodating and flexible. Furthermore, they offer unparalleled support and mobility through innovative techniques.
The boots protect the feet and the calves from chemicals, weeds, dirt, and accidents. They are waterproof and have a thick neoprene liner and a breathable Airmash liner, making the shoes perfect for each season. Moreover, the rubber outsole offers excellent stability on any kind of terrain.
In terms of comfort, we cannot complain, as the company went for a thick Eva midsole and a 2mm thermal foam underneath the footbed. Both of these characteristics contribute to keeping a warm temperature in the winter.
The disadvantage of these boots is the price. For some people, spending over 150$ on a pair of boots is not worth it.
View Price on Amazon
Wolverine is another brand that appeared on our list before. The company earned our trust, as they have been on the market since 1883. During this time, they have created timeless designs of shoes with the most qualitative products. The company evolved along with the technology, constantly upgrading its materials, machines and designs. There are very few brands that can match their performances.
Wolverine Men's SR Direct-Attach 6″ Work Boot is one of Wolverine's best creations. The material used is the most qualitative leather, offering an elegant look to such a practical pair of shoes. However, what made us include the boots on this list is not just their appearance, but also their functionality.
The company adopted a new idea of installing mechanisms into the body of the boots to absorb shock. The heel has compression pads, and the inside has a removable footbed to enhance efficiency. Moreover, the mesh lining helps reducing moisture and sweat to keep the feet dry. The polyurethane midsole maximizes comfort, and the cushioned footbed provides support.
In addition, the company offers a 30-day money-back guarantee when you purchase the boots. The main disadvantage of these boots is the fact that they are expensive.
Hunter is another excellent brand for farmers and other field workers. The company has been alive since 1956, and it gained popularity quite fast. What is extraordinary about this brand is its capacity to maintain good work and quality over the years.
Hunter Women's Original Tall Snow Boots are a pair of shoes for women who want full coverage. These tough boots are made out of 28 different parts for a beautiful and solid construction. Knowing how much women love aesthetically pleasing footwear, the brand decided to add a matte finish to the surface.
For the exterior, Hunter used rubber, but the manufacturers added soft textile on the inside for more comfort and to avoid possible wounds. Do not worry about the terrain or snow, as the rubber sole offers the best traction on the market. As snow boots, these shoes needed to be waterproof to keep moisture and water away, and of course, they are.
Another advantage of these boots is the space they offer inside, providing complete protection against any possible danger or unpleasant substances. The shoes have an adjustable strap around the calf so that they fit any user.
However, we can find a few disadvantages, too. The first (and principal one) is the high price. While theoretically, everything about these shoes is fabulous, reviewers complain that the manufacturing is faulty, and the boots can be tight around the calf, regardless of their adjustable strap.
Working shoes require certain features to fit a farmer's needs. They must be comfortable, durable, and protective. However, some people cannot stand heavy boots with steel toes, thick soles and other added characteristics. Some farmers prefer a simple pair of boots that will last them for years and give them minimum protection and comfort.
If you are such a person, then AdTec Men's 8 inch Farm Boot-M is for you. These boots are the most striking exceptions on the market. Although it is different from most competitors, AdTec still has plenty of customers, meaning that their approach works.
This option is an 8-inch farm boot with a classic design for everyday wear. The redwood leather will attract any buyer with a sense of fashion (or any person, really). However, the company has not based their product on appearance. The leather is 100% authentic, and it is pliable for a larger range of motion to the buyer. The outsole is non-marking and solid, providing traction on any terrain. For everything these boots offer, we find the price excellent!
In addition to the technical details, the shoes have plenty of room so the toes and heel can relax in a natural position. The sole has a cushion inside, soft and moldable to your feet.
What is different about these boots is the absence of a steel toe. We cannot think about it as an advantage, nor as a disadvantage, because some people prefer light shoes, while others prefer more protection.
Our next pick for the list is from Chippewa, a brand that started its journey back in 1901. The company has been one of the leaders in the boots market ever since they sold their first product.
The option we chose from them today is a pair of boots with fiberglass shanks that have the purpose of stabilizing your feet on all sorts of surfaces. The pull-on style saves you time and gives extra comfort to the user. Moreover, the boots have a drill vamp lining adding fabric to the shaft, enhancing the support for extended periods.
There is a removable cushion insert that offers flexibility and, what we appreciate most about the boots, they have a welt thread construction that protects the feet against all substances. The model is electrical hazard resistant and absorbs up to 500 volts. The materials used in the construction of the boots are steel, leather, and rubber.
In addition to the practical reasons we love these boots, we must agree that the design is stunning. The flexible leather looks perfect on the feet, giving a neat aspect even to those working with a lot of dirt every day.
Reviewers say that the size does not match, which can be a problem if you order online. The heel is too big and makes the fit slip inside the shoe, which can be dangerous in such rough working conditions.
Ariat is a brand we will never stop appreciating. One interesting fact about them is that they got their name from Secretariat, a legendary racehorse and Triple Crown winner because he inspired the company with his endurance and competitiveness. These boots are just as strong as Secretariat, created to offer comfort in the harshest conditions.
You will notice how your feet do not get tired after standing for prolonged periods. The steel toe will prevent heavy machines from crushing your legs while still giving enough space for the toes to relax and move. In addition to that, the outsole is heat-resistant, an essential feature for farmers who work in the summer.
The ATS Technology these boots have improves support and stability by determining you to stand correctly. At the same time, the EVA midsole absorbs shock on rough grounds.
The boots are lightweight, electrical hazard resistant, and have an ergonomic composite shank.
One downside of these boots is that they break in quite hard, and your feet could hurt for a couple of days or weeks. This aspect can be uncomfortable if you are working on your feet all day.
Carhartt has been going strong for over 130 years, and the company excelled in offering the best quality for hardworking people. This brand acknowledges how tough it is to work in unpleasant conditions. Therefore, they focus mainly on work clothes and footwear.
This model that made it on our list is a pair of modern boots with classic features. The upper is 100%polished leather, treated to be water-resistant. The shaft is not very tall, but the 6.5 inches offer enough protection. The complete lace system provides stability, and the rubber outsole goes well with the simple but stylish design.
The best thing about these boots is the heel, which is slightly raised (approximately 1.5"). The removable insole makes it easier to clean the shoes, and you can replace it when it gets worn out after long periods.
One of the problems we have with these shoes is the fact that they are not breathable enough. This issue can create problems when worn for too much time.
KEEN created a pair of boots for those who cannot suffer feeling trap inside their shoes. This model offers exceptional ankle flexibility due to the Nubuck leather upper. The shoes have a rubber sole and a thick arch section that provide comfort. The solid lugs and rigid shaft offer torsional support and stability on bumpy ground.
The interior lining is designed for breathability, helping you to stay dry on wet days. On top of that, you can walk through any environment without fearing substances entering your shoe.
The leather upper can last you for years if you take good care of it. Therefore, the brand recommends using a common leather cleaner and conditioner.
Most of the reviews are positive, but some of them say that the shoes tend to fall apart. The conclusion we took from it is that there are a few pairs that are worse than the majority, and the company should work more on this aspect.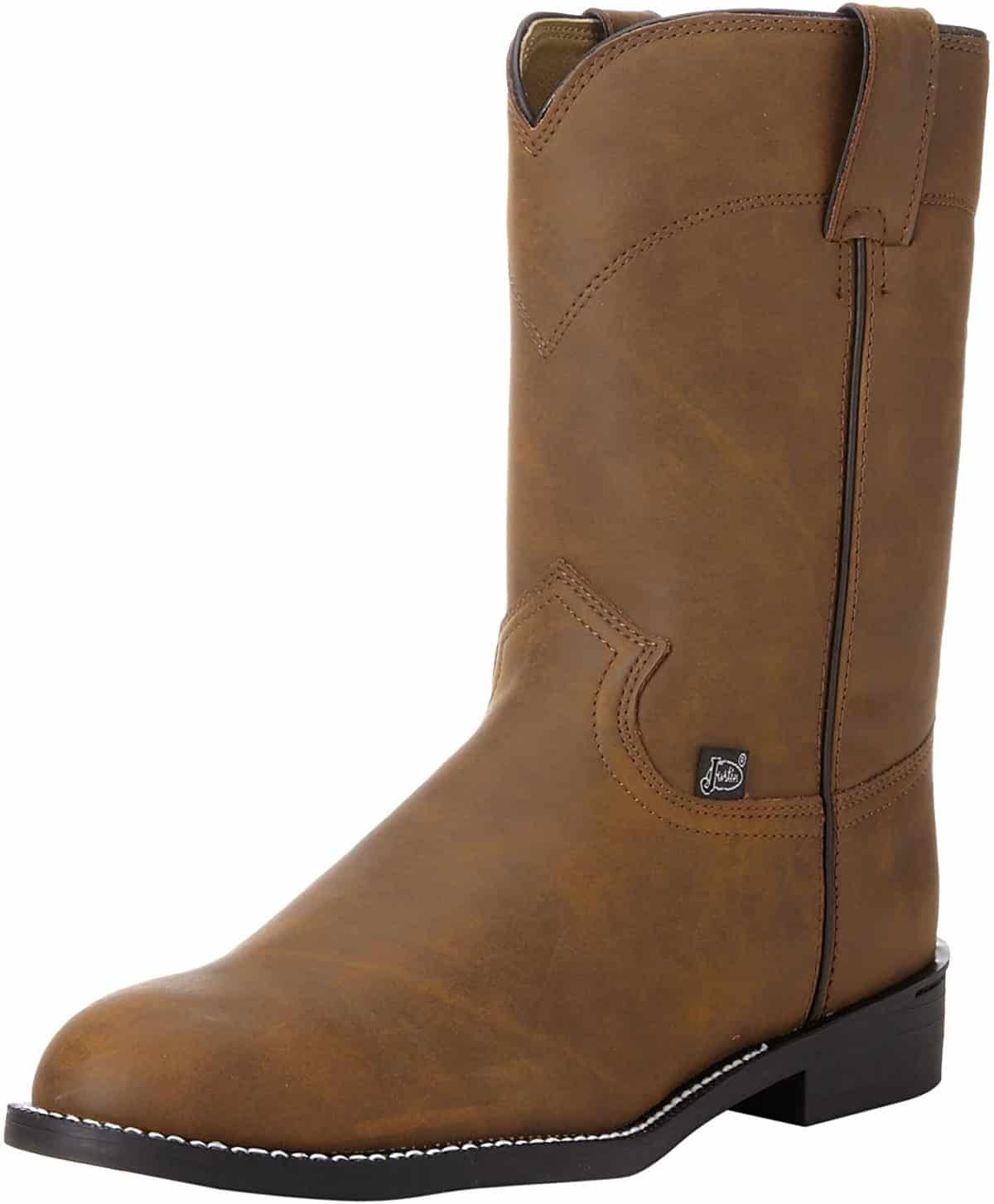 Justin Boots is one of the oldest companies on the market, and its history is extremely rich. The brand has been on the market for over 140 years. The founder of the company, H.J. Justin, mastered the craft of boot-making, and he wanted to open a business that creates qualitative shoes. The company uses only the best materials to create comfortable and protective shoes.
This model is a classic cowboy boot that suits the farm environment perfectly. For the upper, the manufacturers used 100% leather that has astounding properties. The shoes protect not only the feet but also part of the calves.
The slip-on design makes it easier to put the shoes on and take them off, saving you time.
In addition to these aspects, the construction of the boot makes it super durable even after wearing the pair in the roughest conditions.
We wanted to put other brands on this list, but some of these companies we have chosen have multiple great options. ARIAT, for example, surprised us with another model, the Men's Workhog Waterproof Work Boot. These shoes protect you in any environment with their leather outsoles and 10-inch shafts. The shafts have two pulls on both sides to help you put on the shoes making the pair perfect for hurrying farmers.
The boots have a higher heel for better stability and support, and the brand uses slip and oil-resistant outsoles for muddy or wet terrain. All these features contribute to preventing fatigue during long and hard hours of work.
Moreover, your feet will remain constantly dry due to the waterproof capacity of the shoes. Plus, there is no metal inside the boots, making them lighter and more resistant due to their composite toe.
However, the company focused a little on the looks, too, adding a western embroidery that will easily transform the shoes from work boots to casual shoes. ARIAT does not work alone. They are in contact with the best biomechanical research groups to provide comfort and durability.
We finally reached our first pick for the best pair of farming boots: the Muck Boot Arctic Sport Rubber High-Performance Men's Winter Boot. These boots are the highest-rated boots for snow and mud. The company decided to use a mixture of rubber and synthetic neoprene for this model, taking the best from each material and exploiting all their qualities.
The rubber part of the shoe is compact, covering the feet and a part of the calf. This material is completely waterproof, meaning that your feet will stay dry in any condition. The sole has traction lugs for challenging terrain, an issue that farmers encounter every day. A contoured midsole, fleece lining, and thermal footbed offer enough comfort and warmth on the coldest days.
The Pull-On style is one that we appreciate a lot due to the time it saves. This method helps getting rid of the complicated lacing systems that could become dangerous.
These shoes have everything: comfort, durability, and style. The company aimed to solve the main problems of a farmer, and they did. As the name implies, the brand wanted to create the perfect shoes for people who worked in muck or similar environments.
Moreover, if you believe in buying from a brand that shares your beliefs, then this might be the one. They love the rural spirit, hard-working, grounded, and reliable people. Therefore, they created shoes that match their values and care about clients who share their passion.