Whether you're a young person looking to better yourself when it comes to the farming life or if you're an older individual looking to really take that final step towards becoming the best farmer you could ever be, chances are that you already looked into what the best schools for farmers are in the US.
After some thorough research however it's pretty safe to say that you are most likely even more confused than when you started out your journey as you are now swimming through dozens of different possibilities that all appear to be taking you on different pathways towards success.
So, which one's the best out of all of them and which ones should you avoid? This is what we're here to find out today. So, for today we will be providing you with our very own rendition of the top 25 best schools for farmers in the US.
But before we get into that let's answer the two main questions that are most likely on your mind right now.
Why Even Get a Degree in Agriculture?
The main reason as to why you'd even want to get this degree in the first place is because you will need it to hop around a lot of the hurdles along your journey.
That degree can really make or break your career so it's definitely worth it on the long run, especially considering the fact that less than 10% of Americans have a degree in agriculture to begin with.
What Do You Need for an Agriculture Degree?
In case you didn't know by now, there are well over 200 career choices that you can go for when working your way through the agriculture field. Whether we're talking about a food science expert, a horticultural worker a landscape professional there are just way too many choices to go through here.
This is why you need to know exactly what you're going for so as to not take the wrong pathway from that moment on. Choose your preferred profession and never stray away from that. If you do so properly, you'll find your career to be a lot more profitable in the near future.
But alas, now that we have that out of the way how about we fixate straight on the meat of the problem aka the top 25 that you've been waiting for:
25. Utah State University
The Utah State University deserves a spot on our list for many different reasons, one of the top worth-mentioning ones definitely being the fact that it has 9 different departments to look into when profiling yourself in here.
On top of that this is also the site where the first chocolate factory was established in the western side of the United States so you already know you're getting a lot of firsthand experience taught to you from the people that learned everything there was to learn about it back then.
Overall, this is a great choice for those that want to really learn about what makes a farmer good at his job and it truly shows considering how many of their graduates went on to become top farmers in the industry.
24. University of Maryland
This is one of the oldest universities in the world that's still to this day teaching students the ins and outs of the farmer lifestyle.
Ever since they first hit the scene in 1865, they continued to help teenagers and young adults become fully fledged farmers in no time and every one of them swore by the college's quality.
Their incredibly unique 2+2 program which works in tangent with several universities from China is also worth mentioning as you can easily take your studying to the next level by working towards understanding the Chinese agricultural niche during their abroad programs.
23. University of Illinois
Usually depicted in the top 30 agricultural schools in the world, this is a great choice for any student that wants to make sure that after the four-year period is over, they're more than ready to tackle the field and make a name for themselves in the industry.
With 10 different programs to study from and a ton of different teachers that have a lot of experience in the field let's be honest here, the reason as to why it is such a popular choice for most aspiring farmers out there is because the experience that they offer is pretty much top tier to say the least.
22. University of Minnesota
This college right here is especially incredible if you're looking to take your experience to the new level. We're talking about 14 undergraduate, 13 graduate and 25 minor programs in total all meant to help make you the best farmer you could ever be.
On top of that they cover every topic imaginable, regardless of whether you're looking for information on fish, the forest, agriculture or just the land ownership alone, this is a great college to be a part of and that's a fact.
21. Penn State University
Agriculture has always been an important part of Pennsylvania so it's no wonder that when it came to providing their younglings with the proper education in the field, they really went one step beyond and never looked back.
We're talking about 19 campuses and over 18 graduate programs to choose from. Needless to say, if you're looking for a way to study and not be bored out of your mind as you do so then you are more than welcomed to give the Penn State University a try as you will absolutely not regret it in the slightest.
It is also one of the first universities in the world to own land legally, so the history alone of the place makes it an interesting site to learn about the craft.
20. California Polytechnic State University
Coming on down to the Cal Poly (California Polytechnic State University) may very well be one of the best choices you've ever made as this is an incredible site to learn the ins and outs of the field with professionals watching over you at all times.
It is very educational and honestly you need to check out their enterprise projects as these are sure to help you achieve your goals and learn the proper way to take your farmer life to the next level.
California Polytechnic State University
19. Clemson University
With 15 acres of farmland, the students over at the Clemson University really have their work cut out for them as they can easily learn everything on the field as opposed to being locked up in a class learning definitions they'll never use in real life.
18. Michigan State University
The Michigan State University, while definitely not the largest in terms of on land farm or overall size, still offers plenty of opportunities to learn the craft through their incredible programs.
We recommend that you check out the SOF Farm Crew or the Organic Farmer Training Program as these will be very useful for you if you want to make sure that you get to learn the basics to a tee.
On top of that you can do it all in a very short period of time, learning everything there is to learn about vegetables and everything else that comes with the farmer lifestyle.
17. UC Santa Cruz
This right here is a very good choice if you're looking to better your farming skills through a series of incredible apprenticeship programs.
If you're tired of learning in the classroom then come on over to the University of California, Santa Cruz as here you'll learn everything there is to learn about the field and more from the experts that are giving it their all teaching here.
Let's not forget the fact that you also get access to a 25-acre farm that can be worked both manually and by tractor to get the most experience out of your money.
16. College of the Atlantic
You're looking at a 73-acre farm that is sure to provide you with everything that you could ever need on your journey towards becoming a self-sufficient farmer.
On top of being a college with a full range of MOFGA Certified organic vegetables, this is a great place to go to if you're looking to get better at farming and cooking the organic food that you're growing.
15. Butte College
The Butte College from near Chico offers every student the opportunity to work on an 80-acre farm that comes equipped with every installment you could possibly ask for.
On top of that the college has a very rich history and let's not forget about the fact that this is one of the best places to learn about the wine harvest industry.
14. Hampshire College
Back when it was first established in 1965, this college right here had a lot of hurdles it had to pass through to make it as a good option for the students that enrolled in it.
Luckily, they did even more than that as they quickly created what many would refer to as one of the top college farms in the world. With over 100 acres in total, it's just downright fun to study here.
13. Deep Springs College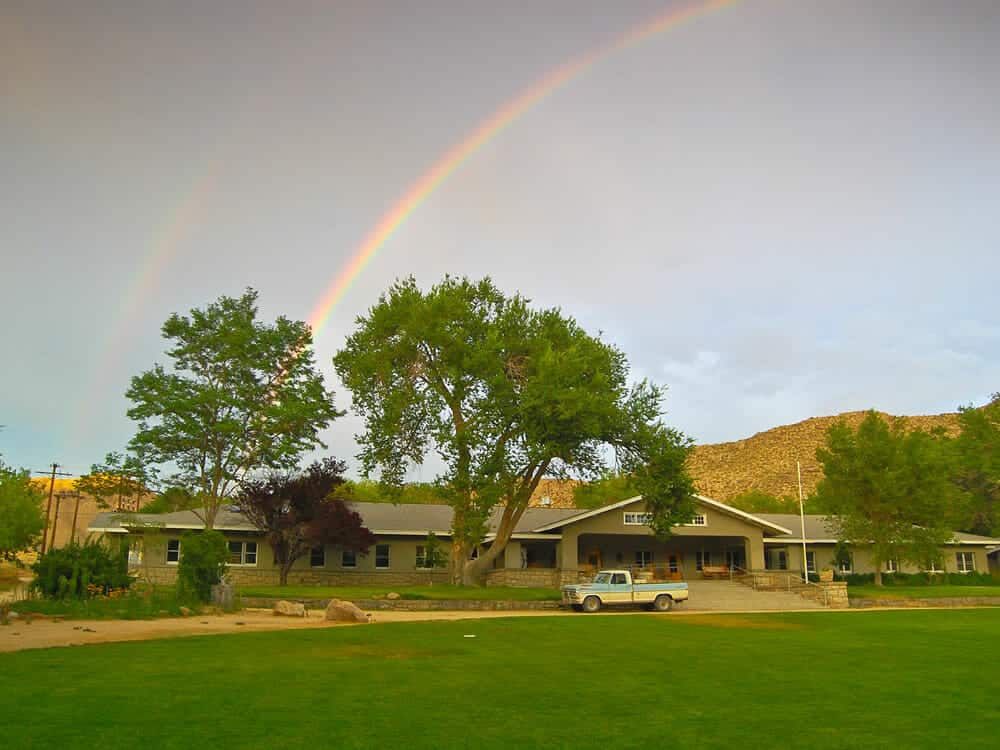 You will find this college in the Alfafa Farm and the Cattle-Ranch region of the California high desert.
It was originally built as a way to provide aspiring farmers to get themselves to the next level which truly shows considering the incredible $50,000 per year scholarships that they provide the students with.
12. College of the Ozarks
The great thing about the College of the Ozarks is the fact that it puts the student through every possible means of educating themselves to the point where they'll make sure that you know what you're doing at the end of the four-year period.
Don't believe us? Just ask any of the 2,000 attending members that are currently working their way to a degree as we speak.
11. Warren Wilson College
The Warren Wilson College, although not specifically tailored for the agricultural field, still offers plenty of different programs to choose from and on top of that it is located in 275 acres which are divided into 25 different fields meaning you can get a lot of practical training done here.
10. Purdue University
The Purdue University is a great choice for you since it offers 43 different Agriculture degree programs and on top of that it is a prestigious choice to say the least.
Since it houses well over 800 Agriculture students out of which over 600 of them have earned their Bachelor's degree last year and 112 have even gotten their Master's degrees there as well you already know you're getting the best bang for your buck.
9. North Dakota State University
The North Dakota State University has always been considered amongst the best universities you could ever enroll in so it's no wonder that students looking to get their Agriculture degree have always loved going for it.
Luckily, these students get to choose out of 47 different Agriculture degree programs and on top of that they get a massive campus in a midsize city which is always a plus.
8. North Carolina State University
This right here might be one of the best universities if you're looking to go for a lesser-known degree in the Agriculture field.
This is because the university actually offers as many as 59 different programs altogether, and just last year over 50 students ended up getting their Doctoral degrees here.
North Carolina State University
7. Cornell University
The Cornell University is a private university that's also incredibly prestigious to say the least as while not a lot of people end up getting the pass to enroll in it, the students that do end up earning their degrees end up getting a lot farther than most other students out there.
On top of that, this university provides the student with 35 different degree programs and let's not forget about the fact that this is a huge university, despite being located in a relatively small city.
6. University of Wisconsin-Madison
If you're looking for a reputable university that offers you the best in terms of quality and pricing then the University of Wisconsin-Madison may very well be at the top of your list too.
This is a massive public university that specializes in Agricultural programs, to the point where they offer 51 different degree programs to make sure that you can follow your dreams and get the best education available.
5. Kansas State University
Also commonly referred to as "The Little Apple", this should instantly become one of your top picks right off the bat simply based on the fact that it is one of those universities that can really set you up for life from the get go.
Some of the top leaders in terms of agriculture actually worked their way through the Kansas State University and they all said the same thing: You can't go wrong when you go with the Kansas State University.
4. University of Florida
Coming up next, we have the University of Florida, and at this point it should go without a doubt that this is one of the most prestigious universities in the world.
On top of all of the commodities that you'll have at your disposal however, it should also be mentioned how they offer 51 different degree programs in terms of Agriculture and since it is situated in a relatively large city you get access to one of the most technologically advanced universities in the world right here.
3. Oregon State University
The Oregon State University is one of a kind simply based on just how many options it offers. Are you looking to diversify your talents and improve your knowledge of the field? Then choose one of the 72 different Agriculture degree programs and base four years on that to maximize yourself in the discipline.
On top of that every year as many as 50 different people end up getting their Doctoral degrees from here, and guess what, they're all successful and ready to tackle the industry as soon as they're out of that door.
2. Iowa State University
Every student that decided to go for the agricultural niche in the Iowa State University should be more than happy with their choice since this is in our honest opinion by far one of the top picks they could go for.
It's all a combination between the classroom training and just the sheer amount of experience that the class will learn from this university that really makes it stand out.
1. Texas A&M University
With 79 different Agriculture degree programs, this is a massive public university that is sure to help you improve in the field.
There are more students here that graduate every year in the agriculture field than anywhere else on the planet and it truly shows considering how ready these people are to tackle the industry as soon as they're done with their four-year journey.
Conclusion
So, there you have it, the top 25 best universities to choose from as far as the agricultural field goes. We wish you good luck ahead and we hope that you never get to second guess the choices you've made. Thank you for reading and don't forget to water those plants today!