Society as we know it has grown overly dependent to processed food, we are literally addicted to the very things that are preventing us from living a long and healthy life in the first place.
This is why more and more people have started to focus a lot more on using fresh, locally grown ingredients to keep themselves and their loved ones healthy and live a longer life alongside them.
While there will definitely be a lot of resistance that you'll meet when changing from a typical fast-food diet to a natural healthy one, just remember to take it slow and steady and only consume what you actually like, as opposed to forcing food you don't enjoy eating down your throat.
With that being said though, there are hundreds if not thousands of different variations of meals that you can implement into your diet to make your life all the better, and while some are definitely a bit more restrictive than others, you can still find pleasure in eating some of these as long as you choose the perfect recipes in the first place.
So, in this article we have decided to showcase our favorite farm to table recipes that you need to try it for yourself before you fully convert to the natural lifestyle that you see all over social media.
Just remember to always eat everything in moderation and as long as you follow these recipes you will absolutely smash through any weight or health goal that you may have set up for yourself for the near or distant future.
With all of that being said, let's hop right into our first recipe of the day:
Italian Ratatouille Recipe (Ciambotta)
Ratatouille, made with delicious vegetables such as tomatoes, eggplant, zucchini, and eggplant, is a flavorful vegetable stew originating in France.
In this Italian Ratatouille Recipe, known as Ciambotta, you'll find the same bright and chunky summer vegetables plus some added potatoes and fresh herb pesto.
Honey Garlic Chicken Stir Fry with Broccoli & Carrots
Indulge in a mouth-watering, healthy feast with this honey garlic chicken stir fry, that's loaded with nutritious veggies like broccoli and carrots.
Your family or friends will be probably smitten with this amazing blend of flavors!
Fresh Pea Soup
Just in time for spring, learn how to make this quick and easy fresh pea soup.
Fresh green peas, vegetable broth, non-dairy milk, potatoes, and plenty of fresh herbs are blended into an irresistibly smooth and creamy pot of pea soup.
Zucchini Tomato Basil Salad with Lemon Basil Vinaigrette
This Zucchini Tomato Basil Salad with Lemon Basil Vinaigrette is a light and refreshing summertime salad and perfect when your garden is exploding with tomatoes, basil, and zucchini in the later summer months.
Lazy Vegan Tikka Masala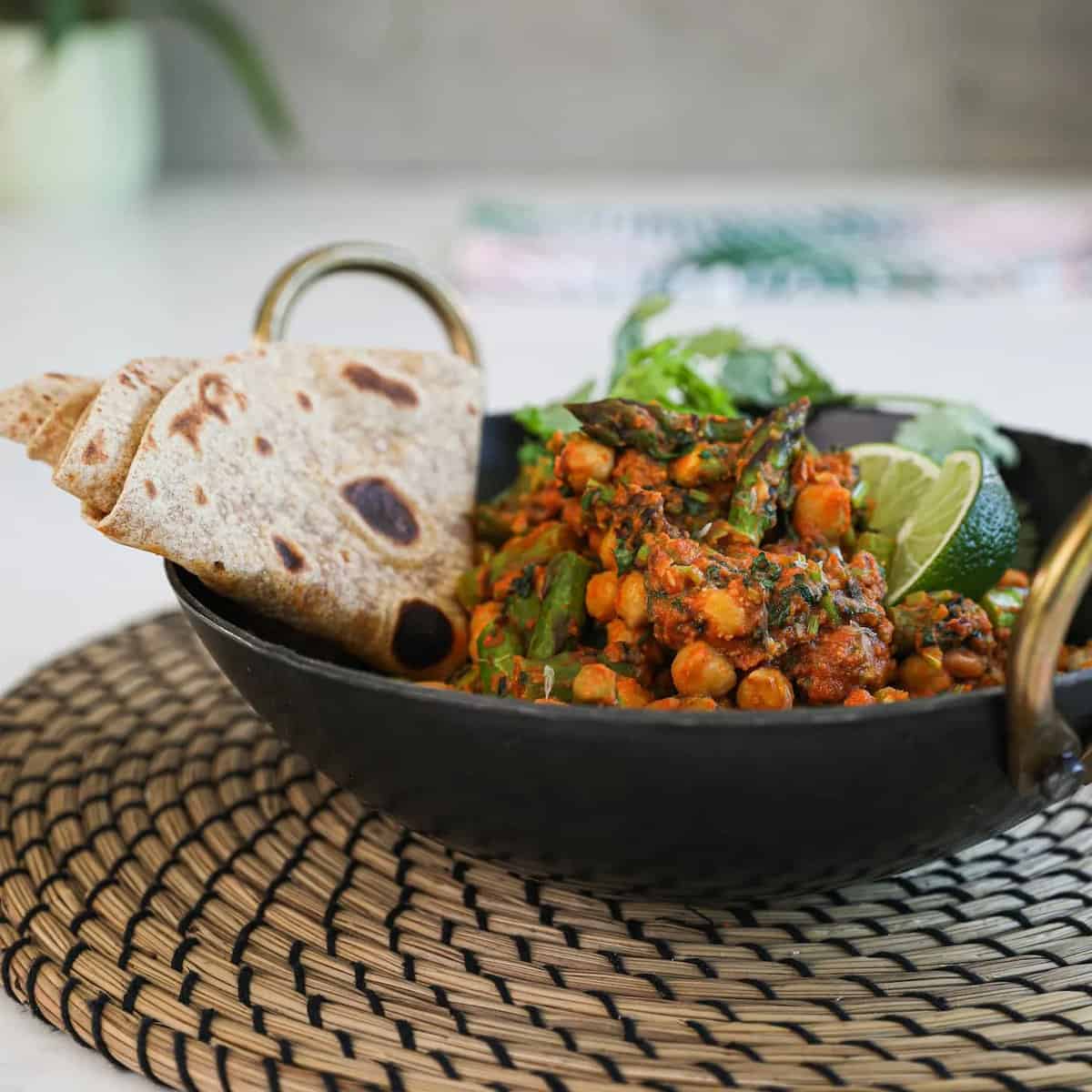 Chickpeas and local asparagus simmered in a thick tomato-coconut sauce infused with cumin, turmeric and fresh cilantro.
Naturally gluten-free and an all-round favourite for vegans and meat-eaters alike, this tikka masala is something else.
Kale and Heirloom Tomato Crustless Quiche
Want to show off your summer garden tomato harvest? There's no better way than with this delicious and nutritious kale and heirloom tomato crustless quiche.
Veggie Garden Pesto Pizza
This Veggie Garden Pizza Pesto recipe is the perfect summer or early fall recipe to use up those garden vegetables or to take advantage of the farmer's market.
There is a homemade pesto sauce and it's topped with arugula for a fresh, healthy, and delicious pizza.
Bison Meatballs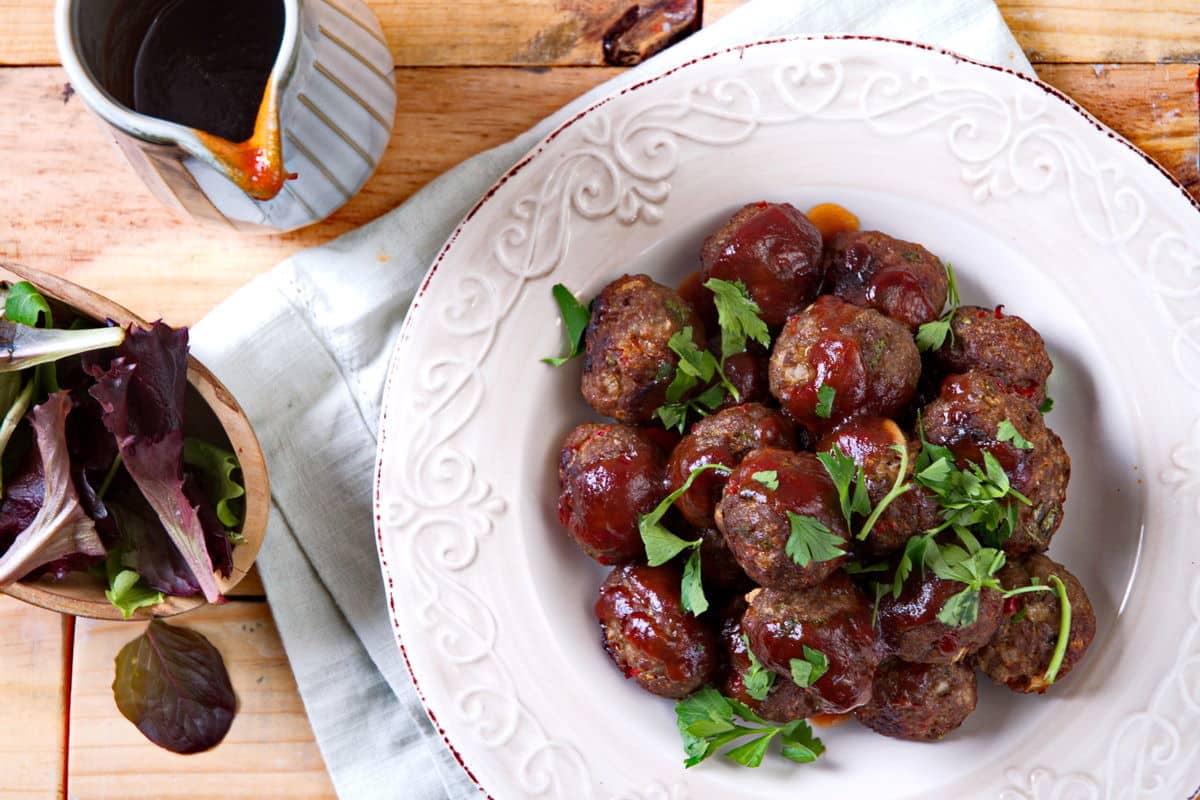 Grab some bison meat from a local farmer and make these bison meatballs with homemade BBQ sauce!
They are simple and quick to make; plus you can use up your fresh garden vegetables and herbs.
Broccoli Salad with Craisins
This side dish is perfect for a summer picnic or potluck salad, and it's always a hit with family and friends. Best of all, it only takes a few minutes to throw together this super healthy broccoli salad.
Sweet Pickled Rhubarb
Sweet pickled rhubarb is easy to make and the most unique way to prepare rhubarb.
Fresh rhubarb is pickled in a sweet, salty and spicy apple cider vinegar mixture with ginger, cloves and pickling spice. It'll be your new favorite way to enjoy rhubarb!
Kohlrabi Soup with Kohlrabi Greens
Not sure what to do with kohlrabi leaves? Make this beautifully orange Kohlrabi Soup with kohlrabi greens, sweet potato, and carrots!
It's a gluten free vegan soup, perfect for when you want a meatless meal.
Mixed Berry Crisp
This mixed berry crisp recipe is easy to whip up and a perfect dessert to serve at the end of a summer dinner.
It's a triple berry crisp that's bursting with sweet juicy raspberries, blackberries, blueberries and strawberries and then layered with a oatmeal streusel topping.
Spring Chicken Salad
Asparagus, strawberries, peas, baby greens and radicchio are a perfect combo for a spring salad drizzled with lemon dill vinaigrette. Top with chicken for a full meal.
Moroccan Zaalouk
Zaalouk is a popular Moroccan cooked salad of eggplants and tomatoes seasoned with paprika, cumin, garlic, and herbs.
Roasting the eggplants is an optional but recommended step for adding a layer of smoky flavor.
Persian Tomato Cucumber Salad
Persian Tomato Cucumber Salad is a fresh, light salad mixing tomatoes, cucumber, red onion, jalapeño, fresh mint and parsley and topped with an olive oil lemon dressing.
This is the perfect side dish to any dinner or a nice lunch with some added chickpeas or grilled chicken.
Homemade Chili with Rotel
This hearty spicy chili with homemade rotel using garden produce is going to be your family's new favorite. It's easy to make too!
Butternut Squash Lasagna
This vegetarian butternut squash lasagna is made with a roasted squash béchamel sauce, kale, ricotta, and mozzarella for a decadent fall meal.
Heirloom Tomato Pie
This Heirloom tomato pie features the brightest, juiciest and best of the summer garden: juicy heirloom tomatoes paired with creamy goat cheese, caramelized onions, fresh basil, and crispy bacon.
The result is a savory and hearty appetizer that perfectly showcases the season's freshest produce.
Cucumber Radish Dill Salad
This cucumber radish dill salad is creamy and delicious. Flavored with fresh dill and dressed in a sour cream dressing, it is low-carb and perfect for any meal.
Garlic Dill Sour Pickles
In late summer when your local farmer's market is brimming with baskets of cucumbers, make sour pickles.
Unlike vinegar pickles, true sour pickles are fermented in brine which gives them a salty, sour punch.
Air Fryer Roasted Carrots
These Air Fryer Roasted Carrots are perfectly cooked in the air fryer and dripping with a delectable honey thyme sauce.
This side dish is a wonderful addition to your holiday table and fits every season!
Cucumber and Tomato Salad with Chickpeas
This Cucumber and Tomato Salad is a summertime favorite. It's loaded with refreshing veggies, protein-rich chickpeas, and tossed with a light, lemony dressing.
You'll want to make it all summer long for barbecues, picnics, potlucks, and more!
Wild Rice Asparagus Salad
Wild Rice Asparagus Salad is a delicious Spring salad with the crunch of fresh asparagus and healthy benefits of wild rice. Bonus: this recipe has lots of info about asparagus growing on a local farm.
Sheet Pan Chicken and Veggies
This amazing Sheet Pan Chicken and Veggies recipe is the perfect solution for those busy weeknights when you want a nutritious meal without all the fuss.
Fire Roasted Bell Pepper Pesto
When it's pepper season, roasting them and transforming them into this delicious fire roasted bell pepper pesto is a great way of preserving them. Use as a dip or as a pasta sauce!
Creamy Corn Chowder
This made from scratch Corn Chowder recipe begins with farm fresh corn on the cob. They even use the cob in this delicious recipe.
Tuscan Pomarola Tomato Sauce Pasta
Tuscan pomarola is a delicious traditional homemade tomato sauce from Tuscany. It can be made with a combination of different types of fresh tomatoes or with just one type.
Fresh Spring Salad
Indulge in a burst of flavors with this nutritious and scrumptious spring salad. It's loaded with a colorful array of veggies that are sure to excite your taste buds.
Dairy-Free Basil Cashew Pesto
If you're looking for ways to use up that fresh basil, this dairy-free pesto is a delicious option. Only a few simple ingredients and it's so simple to prepare!
Homemade Pico de Gallo
Loaded with fresh ingredients and bursting with flavor, this Homemade Pico de Gallo is a perfect complement to your tacos, enchiladas, or salads. Plus, it's so easy to whip up that you'll wonder why you haven't made it sooner!
Final Words
We hope you'll try out at least some of these delicious recipes. You will surely love each and every single one of them!
Just remember that by consuming locally grown produce, you'll support small-scale farmers in your community, thereby reducing food miles and carbon emissions. It's a small yet significant step towards preserving our planet too.