What do you give someone that already has everything they could possibly ask for? When someone's already got whatever they were interested in long time ago, the only real question that we can ask is whether they are willing to take our "hopefully meaningful" gift that we put a lot of thought into.
The problem however stems from the fact that although we probably put a lot of thought into what we gave that certain person, they probably only really liked it because it was us that gave it to them, nothing to do with the gift per se.
But today we will be changing that, by tackling what many would refer to as the hardest kinds of people to shop for in the world, aka farmers. Considering just how busy the life of the typical farmer is, it's no wonder that they can't really show interest in all that much outside of their field.
This is why for today we decided to hop on and shower you with 30 gift ideas for farmers that they will surely like and hopefully use many times after you've surprised them with one of these gifts. So, let's no waste anymore time and just jump right into number 30:
A Custom-Made Bottle Opener
The great thing about having something custom made is that you can specifically add more personality to the gift to make it more meaningful to the person receiving it.
This is exactly why we always recommend buying people custom-made bottle openers, since you can easily etch a personal text or a tractor or something that will match the person's interests and personality.
Just because they're farmers and they're used to working in all sorts of different weathers that doesn't mean that they're not affected by it. Sure, they won't complain about it as much as the usual person, but they'll still be extremely grateful if you give them a heavy coat that they can work around in.
Bonus points if you go for a chore coat since even after being used in less than favorable conditions it doesn't lose its appeal anytime soon.
The weird thing about farmers is that for some reason, they all love carrying around the cheapest mud boots they can find. This is probably just to save on expenses, but even if they are pretty much loaded with money, they still tend to be quite cheap when it comes to their farmer boots.
This is why you can always bet on making their day by going for some high-quality boots that they can walk around in the mud with all day long. Maybe go for something like the Arctic Sport Much boots, they're pretty much unbeatable in the industry.
All the best farms in the world have a wooden farmhouse and that's a fact. It is pretty much a staple of what a great farm has and how you can find one out there.
This is why, for this celebration you should definitely make sure that you make it as personalized as possible, making it as meaningful as you can for the person that you're buying this for.
No one likes crusty lips, they're not attractive and they're also extremely annoying to have to deal with. The problem here is that working on the field all day through the grueling weather usually makes it impossible to avoid lip balm altogether.
This is why we always recommend going for some classic lip balm because it really does help them a lot. It's also a very cheap gift, one you can get for under 30 dollars on the market, and that's for a top-quality product too.
A Personalized Tumbler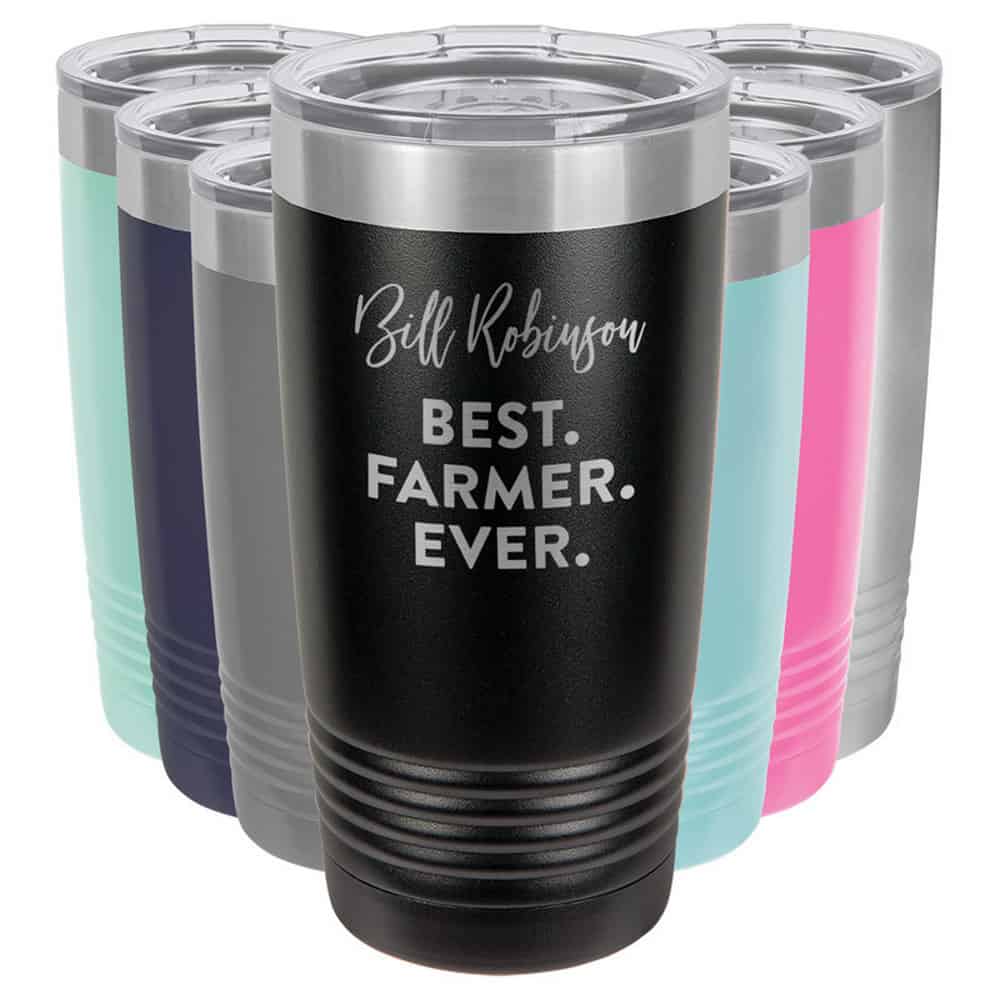 In case you don't know what a tumbler is, it's basically just a double-walled vacuum-sealed mug which you can use to store your drink in, whether it be cold or warm is up to you.
Waking up early in the morning is a staple of the farmer lifestyle, but just because it's a necessity that doesn't mean it has to hit them full force.
Make their day better and easier to get through by getting them a personalized tumbler that they can use to store their morning coffee in.
As cartoonish as these can be, they can really help give the place a lot more personality too, and that can really make the day of the recipient of the gift.
Make sure that you personalize the barrel too if you can, since every gift that's personalized will make them feel more special at the end of the day.
A Short Getaway from the Farm
As much as someone loves the farmer's lifestyle, they can end up being a bit too narrow-sighted because of it which means one thing: They need to get away, and that's for their own good right there.
Just make sure that they know about it a little before the actual getaway happens so that they can properly set up their budget, schedule, maybe hire a caretaker while they're gone and of course, see if they can even make the travel happen considering the current restrictions we're dealing with.
Let's be honest here, you can never go wrong with a solid pair of gloves since they're so universal that no farmer can live their life without them.
Even if they already have a pair or two, chances are that they'll still appreciate it since they'll be very happy to have a spare in case their current pair gets ripped or if they lose them for any reason whatsoever.
Working at the farm usually means that they'll have to do a lot of work around which implies the need for a ton of tools to carry around. You can help them a lot in this case by buying a multi-tool utensil for them.
Just imagine all the hassle you saved them now that instead of carrying around ten tools they only need to take that one multi-tool with them.
If we're talking about universally acclaimed gifts then we've got to mention these little suckers for sure. They're absolutely adorable and on top of that they're also extremely unique so they'll feel like they're special to you if you get them something so strange.
They can be stored both indoors and outdoors and they can really help change the vibe of the whole place.
Since we mentioned a multi-tool utensil before we should also probably talk about a knife since they're pretty much universal when it comes to their use value.
On top of that, if you get one that's also engraved with a personalized message then you're looking at one of the top gifts that you can get a farmer or pretty much anyone else out there.
The great thing about wooden watches is definitely the fact that they're extremely stylish and on top of that they're also perfect for anyone that has a more sensitive skin and this means they can't wear any normal watches around their wrist.
Although this is typically a men's gift idea, you can still find plenty of women's wooden watches too, just look around and you'll find plenty of choices out there for an affordable price tag.
We highly recommend going for a personalized walnut wood keepsake box, but if you can't go for that material then you can still go for any other material that you think would suit the farmer you're gifting this too.
Just like with every other gift on this list, make sure that you get them a product that's personalized for them. The great thing about this gift is that it's very easy to find one that's centered around farmers so that'll be easy to find.
Just because they're used to sitting around on hard surfaces that doesn't mean that you can't help them out by giving them something like a heated seat cushion.
This will especially make their day if they spend all day driving around in their truck or tractor.
The key factor that you can't forget about when it comes to this gift idea is definitely the personalized part. Just remember to get them something made up of a material that lasts too, something like bamboo.
Couple that durability with a nice "Farmer" stapled over it and you've got yourself a win here.
Most farmers out there love to see the birds just gather around their farm all day long and that's a fact. It's a very tranquil feeling, seeing all of those flying rodents come along and even sing you a song in the mornings.
But alas, if you want to make their mornings even better then all you need to do is you need to get them a personalized bird feeder. This will attract even more birds to their farm and even make them a lot friendlier as they'll know they're safe around the person that's feeding them all day long. They might also like a chicken waterer.
Farmers love to spend a lot of time outside, which is why it's always a great idea to get them a gift like this. Who doesn't love going out for a picnic meetup?
A picnic backpack will offer them everything that they could ever ask for when it comes to the picnic outing, and they'll also look a lot more reliable carrying it around which is always a plus.
Regardless of whether the person you're gifting this too is a seasoned chef or if they're just getting started with burning their eggs in the morning, a good frying pan will always make for a perfect gift idea.
You get extra points if you go for one that has easy to grip handles since that just makes the job a lot easier for them.
While definitely on the pricier side of things, getting this for your farmer friend or loved one will literally make their day since this is a gift that will only get better as it ages.
Its ruggedness will also make them feel a lot manlier too, so that's always a plus to take into consideration.
Yes, warm socks can sound pretty boring all things considered, but have you ever been working on the field all day long, only to come back home and to find out that you don't have a clean pair of socks to wear around your room anymore?
It happened to us, and let's just say we would have loved to have a friend think about this when buying us a gift.
Sure, we all have our computers ready to tell us everything we need to know, which is why this is not as much of a practical gift idea as much as it is just a really cute addition to their rooms.
Aesthetically speaking, seeing one of these on the side of the counter will definitely add a lot of personality to their place.
Wallets always end up ripped or just downright unusable most of the time, especially when you work in such a demanding field.
This is why we always recommend getting your loved one a personalized wallet, especially one that clearly showcases their interests, which in this case would be a farming tool or equipment piece.
Even if you work on the field all day long you still need to make sure that your phone is safe and not completely rugged, which is why honestly one of the best gifts you can give someone is definitely a phone case.
You also get extra points if you can find one that's funny and relatable to them, something like a farmer's joke or a farming gag printed on the sides can really make their day.
In case you didn't know by now, a berry buddy is basically just a stoneware strainer that you can use to wash your berries through.
It's extremely practical and a must for the farmers that love to eat berries all day long but hate to have to wash them before they do so.
Similar to the multi-tool we mentioned previously, a gardener's tool belt is pretty much essential when it comes to doing work around the yard since it'll save them a lot of hassle in the process.
It's both practical and, if you pick the right looking one for the right person, they'll instantly fall in love with it.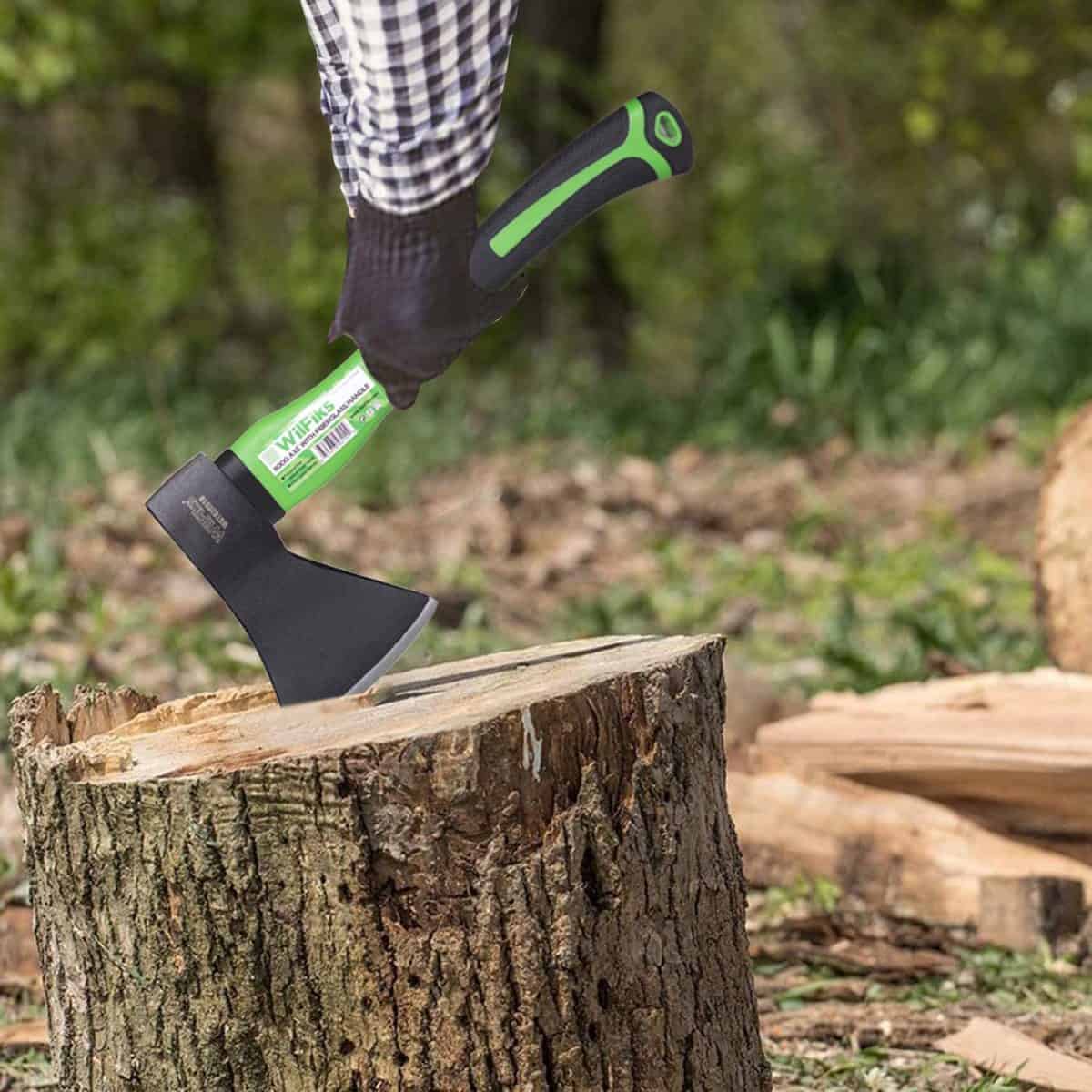 Regardless of whether you gift it for the sake of them having a means of defending themselves against the horde of zombies or if it's just so they can chop wood all day long, this is one of those gifts that will always be extremely useful to any farmer out there.
A flashlight is one of those gifts that, regardless of whether the person is a farmer or not, they'll still love using it since there will always be a need for one. Regardless, make sure to really help them out by gifting them one, but remember to always check the power of it beforehand.
You wouldn't want to give them a subpar flashlight because that's just a buzz kill. Go for the strongest flashlight available since that will help them with any night duties that they need to take care of.
For when the electricity goes out, which can be extremely bad for the farmer if their farm relies on energy to function properly, an all-weather generator is the perfect choice that they'll always like to have in the back even if the need for one never arises.
Overalls are the perfect choice for any farmer out there because they are both extremely comfortable and extremely useful too. Nobody likes being cold, especially when they're out there all day long, so make their day easier to get through by getting them some proper warm chore overalls for this celebration.
Conclusion
So, regardless of which of these gifts you choose to get your farmer, just remember that it's not the gift itself but the thought that matters. Because of that, any of these gifts will work perfectly as long as you make it as personalized of a gift as you can make it for them.
We made sure to put in a decent number of items that are both useful and aesthetically pleasing, but just remember what we said above. With that out of the way, thank you for reading this far and we wish you and your farmer friend/loved one a good day!